Reviews
Wotzon.com - Events Online
Switzerland on at Circa Theatre
Review by Tilda Bostwick
This is a tense, sharp-witted and highly entertaining play. by clever Aussie playwright Joanna Murray-Smith written in 2014. It offers a glimpse into the private world of the author Patricia Highsmith, (Strangers on a Train, Carol, Mr Ripley) who chose to live the last twelve years of her life as a recluse in Switzerland.
Patricia is played magnificently by Catherine Downes who brings the perfect acerbic tone, calling a spade a spade to its face, and fawning over her scary antique knife and gun collection. Its full of caustic witticisms like "Argh happy people! They are only happy because they don't ask enough questions".
Enter the publisher's lackey played by Simon Leary. Like a drowning man he rallies again and again to get that contract signed. An interesting dance ensues…
There is a WTF! moment in the last part of this play, so it would be good to take someone you can have a good post-mortem with as this is a play that needs to be discussed. Thank you Circa for a great night out!
About Switzerland
Circa Two
17 March – 14 April
Tues – Sat 7.30pm, Sun 4.30pm
Celebrated crime writer, Patricia Highsmith is living hidden away in the Swiss Alps and refusing to contact her publishers who are urging her to write another in the best-selling Ripley series. A mysterious young man appears unannounced. Will her love of fictional murders become a dangerous reality? What first appears to be a standard cat-and-mouse game soon becomes a dance to the death. Who is the cat and who is the mouse? And…who will make it out of Switzerland alive.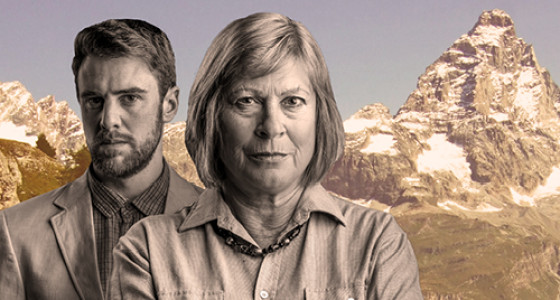 A sharp, gripping and sometimes very witty two-hander exploring the final chapter in the life of Patricia Highsmith. (The Talented Mr. Ripley, Strangers on a Train, Carol)
Starring: Catherine Downes and Simon Leary
Proudly supported by Paul and Danika McArthur