Writers on Mondays- Harry Ricketts
Mon 30 Jul 2018, 12:15 pm
Mon 30 Jul 2018, 01:15 pm
Te Marae
Level 4, Te Papa
WELLINGTON
Free Entry Event, Writing Publishing,
Wheelchair access, Accessible toilets, Mobility parking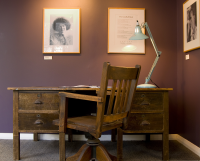 A poet, editor, biographer, critic and academic, Harry Ricketts teaches English literature and creative writing at Victoria University of Wellington. He has published over thirty books, including the internationally acclaimed The Unforgiving Minute: A Life of Rudyard Kipling (1999), How to Catch a Cricket Match (2006) and Strange Meetings: The Lives of the Poets of the Great War (2010). His eleventh and most recent collection Winter Eyes, has been described as 'Poetry as comfort, poetry as confrontation'. These are elegiac and bittersweet poems of friendship, of love's stranglehold, of the streets and buildings where history plays out. Harry is joined by editor and Victoria University Professor of English Jane Stafford to discuss his latest work.
Writers on Mondays is presented by the International Institute of Modern Letters and The Museum of New Zealand Te Papa Tongarewa.
These events are open to the public and free of charge.