Writers on Mondays - Best New Zealand Poems 2017
2 days ago, Mon 20 Aug 2018, 12:15 pm
2 days ago, Mon 20 Aug 2018, 01:15 pm
Te Papa Tongarewa
Te Marae, Level 4
Wellington
Free Entry Event, Writing Publishing, Arts Culture,
Wheelchair access, Accessible toilets, Mobility parking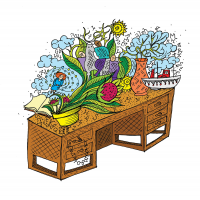 Best New Zealand Poems is published annually by Victoria University's International Institute of Modern Letters. Get ready for Phantom Billstickers National Poetry Day (on 24 August) by coming along to hear seven of the best read work selected for Best New Zealand Poems – and be sure to visit www.bestnewzealandpoems.org.nz to view the full selection. Poets Airini Beautrais, Chris Tse, Marty Smith, Liz Breslin, Greg Kan, Makyla Curtis and Hannah Mettner are introduced by Best New Zealand Poems 2017 editor Selina Tusitala Marsh.
Writers on Mondays is presented by the International Institute of Modern Letters and Te Papa Tongarewa.
These events are open to the public and free of charge.