Writers on Mondays - The Imaginary Lives of James Pōneke
Mon 27 Aug 2018, 12:15 pm
Mon 27 Aug 2018, 01:15 pm
Te Papa Tongarewa
Te Marae, Level 4
Wellington
Free Entry Event, Writing Publishing, Arts Culture,
Wheelchair access, Accessible toilets, Mobility parking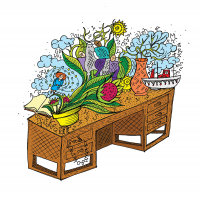 Tina Makereti is a fiction writer who has also been recognised for her non-fiction, winning the Royal Society of New Zealand Manhire Prize for Creative Science Writing (Non-fiction) in 2009. She has twice won the Fiction award at the Ngā Kupu Ora Māori Book Awards, first in 2011 for her short-story collection Once Upon a Time in Aotearoa, and again in 2014 for her debut novel Where the Rēkohu Bone Sings. Makereti is joined by fiction writer Lawrence Patchett to discuss her new novel The Imaginary Lives of James Pōneke, about an orphaned son of a chief, ardent student of English, and wide-eyed survivor who travels to London in 1846. All the world's a stage, especially when you're a living exhibit.
Writers on Mondays is presented by the International Institute of Modern Letters and Te Papa Tongarewa.
These events are open to the public and free of charge.