Blog
Wotzon.com - Events Online
Wearing White
White. It's supposed to be a key colour this Spring/Summer 2013 in the fashion world. It can be a tricky colour to wear. Some people LOVE it and others run a mile. That's me down the road there.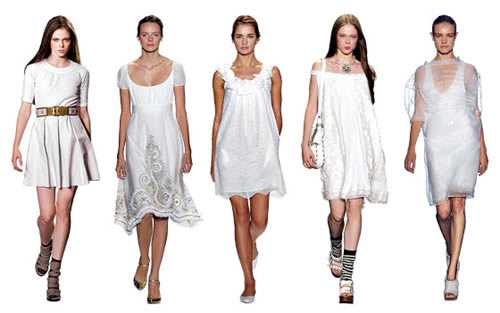 I had my colour epiphany with white. Swapping a white cardigan for a stone coloured one in a changing room in London was a shock. I kept putting the white one on and seeing all the colour drain from my face. I looked around the empty changing room to ask someone - "why didn't someone not tell me I couldn't wear white? I thought everyone could wear white?" Victoria Beckham says 'everyone should own a white shirt'. I have to disagree Ms Beckham.
So as you can see, it's not a colour everyone can wear. Some people choose to wear it regardless of whether it suits them because they love the crispness of that white shirt. What they end up saying is they need a) a tan b) a strong lipstick c) a scarf. All things that prove that instinctually they don't feel great in it and need to do 'extra work' to make it work. Each to their own. I say just wear crisp cream instead and you are sorted.
The other obvious factor with wearing white is getting it grubby. Kids and marmite hands, coffee stains, red wine, food splodges. I don't know about you, but all this stuff is attracted to me and anything pale I wear. I end up walking around all day with my hands out trying to fend off stains.
White trousers are a whole different topic. I swear, in the 8 years of delving into people's wardrobes, 90% of clients have owned a pair of white trousers. I would estimate another 80% of those who own them haven't worn them. The main problem with wearing white trousers is not the size of your lower body, it is what you team it with. Often people put a black top with them and the contrast of cutting yourself in half will always make you look a little shorter and a little wider. If you want to wear white trousers, team it with a lighter coloured top to create colour flow.
Me, I'll be steering clear of white this season. I don't fancy looking like I've seen a ghost or trying to convince people all the splatters on my clothing are the latest, geometric pattern. But white wearers who suit it, enjoy it. It really does look amazing on the right colouring & can be lovely in many classic clothing pieces.
Trudi Bennett is director of Wardrobe Flair and can be contacted on 021 236 4738 or email her at trudi@wardrobeflair.com