The Welsh Dragon Bar
On the traffic island between Cambridge and Kent Tce, Wellington
Phone 04 385 6566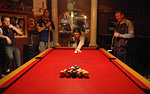 Housed in a wonderful old historic domed building on a traffic island which was once the "loo stop" for the trams - hence their motto - "come in for a leek", The Welsh Dragon Bar is novel and quaint. There are separate areas, which lends itself ideally for private party functions; a lounge room with leather couches, a nice cosy bar with a fireplace being the focal point and then a pool room adorned with rugby jerseys. French doors lead out to a lovely landscaped courtyard that is ideal for smokers and barbeques in the summer.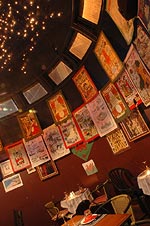 The people at the Welsh Dragon Bar have a genuine passion for promoting their culture through the authenticity of all their staff, food, music and memorabilia. The bar is far more of a "British Style" country pub and it appeals to local residents as well as a great ex-pat following and travellers alike. Many nights end in a sing song around the piano or with the guitar, and patrons are chuffed to be invited to sign their relevant country's flag on the wall. Their unique memorabilia includes love spoons, historic ties and rugby shirts, photos and numerous tea towels sent in by returning visitors.
While the Welsh Dragon Bar no longer has a restaurant, they do serve bar snacks.
There is live music on most nights including a Welsh singer and also a well known theatre performer who gets the crowds going with a percussion session into the early hours.