A true Wellington icon - the Cable Car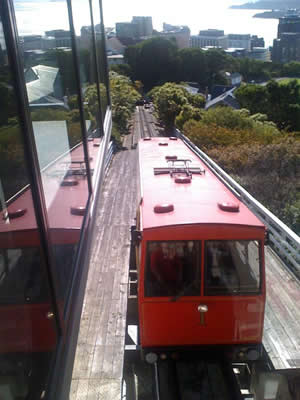 Wellington is a hilly city and this is where the Wellington Cable Car comes into its own. The Wellington cable car travels directly from the heart of the city's shopping centre up to the top station, Upland Road, Kelburn, as opposed to a journey along steep winding streets, with their inevitable parking problems. The Salamanca Road station (one before the top) allows a short walk to Victoria University and Weir House (Hall of Residence).
Having traveled to the top, about 5 minutes, you are provided with stunning views of Wellington Harbour and the city, and the hills in the background. In the winter, Wellington still enjoys a number of stunning clear blue days when glimpses of the snow on the Rimutaka ranges add to the beauty of the vista.
The top station is located in the beautiful Botanic Garden which stretches down the hillside towards Thorndon and back to the city. From here you can enjoy some gentle walks through the gardens into Tinakori Road in historic Thorndon with its quaint houses, shops and cafes. It is then an easy walk back to the Lambton Quay "golden mile" shopping centre of the city and the wharf areas, past the Beehive Parliament building and grounds.
An alternative attractive walk is to take the route down through the Bolton Street cemetery which is the resting place of famous New Zealanders and pioneers, and one arrives back at the Beehive and Lambton Quay again.
There are a number of interesting features at the top of the Cable Car including the Cable Car Museum which house the cable car vehicles from bygone times and the operating winding gear and Carter Observatory and planetarium with a number of large telescopes, displays and interesting sun-dials.
The Botanic Gardens has a range of attractions apart from natural New Zealand flora, it has a great Children's Play Area for children with slides and a flying fox on the hillside. Further down is the Lady Norwood Rose Garden,Begonia House the Japanese Gardens, Herb Garden and the Duck Pond. A must is refreshments in the conservatory. In the summer, check to see if there is entertainment provided at the Sound Shell.
The cable car operates on railway tracks and is hauled up the hill by the cable at a gentle pace, which means that it is suitable for children and those with disabilities.
Visit the Wellington Cable Car website.