Top Dog Film Festival NZ Tour 2018
Fri 24 Aug 2018, 08:00 pm
Fri 24 Aug 2018, 10:00 pm
The Hollywood Cinema
28 Marriner St, Sumner
Christchurch
Mon 27 Aug 2018, 06:00 pm
Mon 27 Aug 2018, 08:15 pm
Rialto Cinema
11 Moray Place
Dunedin
Thu 30 Aug 2018, 07:00 pm
Thu 30 Aug 2018, 09:15 pm
The Roxy Cinema
5 Park Rd, Miramar
Wellington
Festivals, Film Media Entertainment, Animals Pets,
Wheelchair access, Accessible toilets
Christchurch: 8pm Fri 24 Aug @ The Hollywood Cinem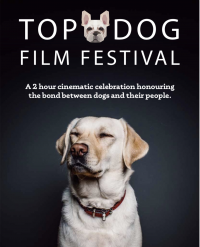 Celebrate the canine connection through this carefully curated collection of heartwarming stories about dogs and their people. After the sellout success of the inaugural Top Dog Film Festival in 2017 the cunningly canine filled program of heartwarming and inspiring dog films is coming to New Zealand this August and September.
Meet dogs from all walks of life on the big screen at the 2018 Top Dog Film Festivl. From the wild world of the wolf to the primed and pampered pooches of the dog grooming world, the pull on your heartstring is guaranteed to be strong. Watch 4 legged heroes, unbreakable bonds and canine companions enrich the lives of all those they encounter.
Dog loving audiences will gain an insight into the life of an inspiring and passionate dog trainer, delve into the competitive dog grooming scene, meet a crew of committed disabled dog adorers and be introduced to the adorable, George, who is just looking for a good home, a good run and a good cuddle.
The 2018 Top Dog Film Festival presents a 2 hour cinematic celebration honouring the bond between dogs and their people. Filled will delightfully doggy moments of joy and celebration of our beloved canine companions.
This carefully curated program of 8 short canine-themed films is comprised of the most inspirational, heartwarming and entertaining stories about dogs and their human companions, from independent films makers around the globe.
Get your tickets before they all sell out – you'd be barking mad to miss it.
Event Dates
The Hollywood Cinema
Christchurch
28 Marriner St, Sumner
View on map
Fri 24 Aug 2018, 08:00 pm
Fri 24 Aug 2018, 10:00 pm
Mon 27 Aug 2018, 06:00 pm
Mon 27 Aug 2018, 08:15 pm
The Roxy Cinema
Wellington
5 Park Rd, Miramar
View on map
Thu 30 Aug 2018, 07:00 pm
Thu 30 Aug 2018, 09:15 pm
Original generation time 0.3805 seconds.