Tokenomx- Asia - Crypto Conference
Tue 17 Apr 2018, 08:00 am
Thu 19 Apr 2018, 09:00 pm
Le Méridien Hotel
Chiang Mai, Thailand
Chiang Mai
Conferences Workshops Classes, Business,
Wheelchair access, Accessible toilets, Mobility parking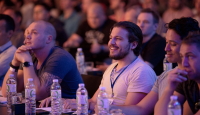 TokenomX is an exclusive three-day networking and education event for traders, investors, and entrepreneurs in the blockchain space. We bring together key stakeholders including CEO's, Founders, Entrepreneurs, Creatives, Attorneys & Developers.
Our program will address relevant industry topics such as ICO best practices, protocol development strategies, cryptocurrency investment analysis, case studies, smart contracts, sidechains and future insights. Our first event launches April 17th-19th in Chiang Mai Thailand. The full conference program will be published on our event website soon.