Blog
Wotzon.com - Events Online
Great Theatre with Isaac's Eyes
Reviewed by Tilda Bostwick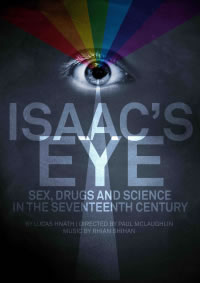 This is the 2nd play (after Walt Disney) that Circa has done by young New York writer Lucas Hnath, who likes to agitate his audience, to write about personal morality and the lengths people will go to, to realise their ambitions.
This well crafted piece of theatre is like a 'fan fiction' of Isaac Newton's life and his feud with his Royal Society nemisis Robert Hook. It's set in 1650, but in modern language with references to the plague and great fire of London.
The set is simple, painted black with chalk writing and projections of scientific scribbles. The cast stand out as they are dressed in white and monotones.
The casting is superb; Newton (played by Andrew Paterson) is slightly Asberger's with childish physicality and a nasty streak. His 'girlfriend' (Neenah Dekkers-Reihana) is 10 years older, a family friend, chemist and wanting commitment from Isaac. Robert Hook is played by Todd Rippon; a towering caricature both pompous and undone. The amusing and valuable character of narrator, fool and one man chorus played by Alex Greig, helped us along by writing on the walls, observing with us and commenting on the action.
It's an enjoyable play both thoughtful and amusing with big questions about the personal and scientific spheres with the characters not afraid to say that they are f**d up.
On at Circa II until 15 November. Click here for full storyline, cast and production details.
Tilda Bostwick is a film and theatre production professional based in Wellington.