The Magic of Christmas
Sat 15 Dec 2018, 02:00 pm
Sat 15 Dec 2018, 04:00 pm
Harmony Church
220 Antigua Street
Christchurch
Sat 15 Dec 2018, 07:00 pm
Sat 15 Dec 2018, 09:00 pm
Harmony Church
220 Antigua Street
Christchurch
Music, Canterbury Region, Family, Fundraising
Wheelchair access, Accessible toilets
Adults $25 - Seniors $20 - School Children $10
Door sales (if tickets are still available)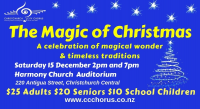 Christmas is one of the most eagerly awaited events of the year.
This year we will bring you "The Magic of Christmas". A celebration of magical wonder & timeless tradition, featuring 11th time Sweet Adelines national champions Christchurch City Chorus and friends.
Book your tickets NOW online at www.ccchorus.co.nz (Credit Card facility available).
Or contact Jeannette McGrath - jpmcgrath@xtra.co.nz or phone - 021976572.
Thank you for your support.
See you there :)
Event Dates
Harmony Church
Christchurch
220 Antigua Street
View on map
Sat 15 Dec 2018, 02:00 pm
Sat 15 Dec 2018, 04:00 pm
Adults $25 - Seniors $20 - School Children $10
Harmony Church
Christchurch
220 Antigua Street
View on map
Sat 15 Dec 2018, 07:00 pm
Sat 15 Dec 2018, 09:00 pm
Adults $25 - Seniors $20 - School Children $10