Summer Show featuring Begonias and Fuchsias
Sat 09 Feb 2019, 12:00 pm
Sun 10 Feb 2019, 03:30 pm
Walter Nash Centre
22 Taine Street, Taita
Lower Hutt
Exhibitions, Home Lifestyle, Recreational, Hobbies Special Interest
Hutt Valley Horticultural Society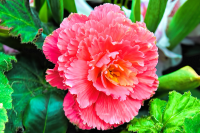 Join Hutt Valley Horticultural Society and associated groups as they showcase sensational seasonal blooms featuring begonias, fuchsias and dahlias. A wide range of plants will also be on display, including NZ natives and vegetables/fruit.
The show will feature displays by the Wellington Begonia Circle and Wellington Fuchsia Society.
Plant sales will be available.
Entry $3 for adults. Members and children free.
Show open
Saturday 9 February 12 noon to 4pm
Sunday 10 February 10am to 3:30 pm
The society welcomes entries from the general public. For further information about entering shows, please contact the society.
For further information, please email Allison at secretaryhvhs@outlook.com