SISTERHOOD - A Circus Celebration
Fri 28 Feb 2020, 07:30 pm
Fri 28 Feb 2020, 08:30 pm
Te Auaha - Tapere Nui
65 Dixon Street
Wellington
Sat 29 Feb 2020, 03:30 pm
Sat 29 Feb 2020, 04:30 pm
Te Auaha - Tapere Nui
65 Dixon Street
Wellington
Sat 29 Feb 2020, 07:30 pm
Sat 29 Feb 2020, 08:30 pm
Te Auaha - Tapere Nui
65 Dixon Street
Wellington
Sun 01 Mar 2020, 03:30 pm
Sun 01 Mar 2020, 04:30 pm
Te Auaha - Tapere Nui
65 Dixon Street
Wellington
Sun 01 Mar 2020, 07:30 pm
Sun 01 Mar 2020, 08:30 pm
Te Auaha - Tapere Nui
65 Dixon Street
Wellington
Circus, Wellington Region, Theatre, Arts Culture
Wheelchair access, Accessible toilets
Full price $25.00 | Concession $20.00
50 minutes duration | appropriate for all ages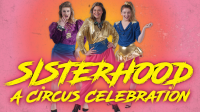 Tangata Circus Company are back at the New Zealand Fringe Festival to debut their brand new show, SISTERHOOD: A Circus Celebration from 28 February to 1 March 2020.
SISTERHOOD is an explosion of colour and music inspired by the bodacious beats of the 70's and 80's. Major attitude and thrilling circus skills come together in the abandoned love shack to proclaim a message of unapologetic self-empowerment.
On a stormy night, Jackson stumbles upon the abandoned love shack. Little does he know, he will be taken on a journey of empowerment by three larger than life Disco Divas. SISTERHOOD is a show that celebrates sequins, legwarmers and being your own sassy self. Not only that, you can expect high energy group acrobatics, hula hoops, hand balancing and cyr wheel, performed by three strong women.
"We are so excited to debut this show at NZ Fringe. It is quite different to anything we have done in the past and we can't wait to show audiences our new skills and fresh flavour!" SISTERHOOD is the kind of show that will make you want to get up offa that thing, and dance like nobody's watching.


Tickets are available from: www.fringe.co.nz/show/41843
Event Dates
Fri 28 Feb 2020, 07:30 pm
Fri 28 Feb 2020, 08:30 pm
Full price $25.00 | Concession $20.00
Sat 29 Feb 2020, 03:30 pm
Sat 29 Feb 2020, 04:30 pm
Full price $25.00 | Concession $20.00
Sat 29 Feb 2020, 07:30 pm
Sat 29 Feb 2020, 08:30 pm
Full price $25.00 | Concession $20.00
Sun 01 Mar 2020, 03:30 pm
Sun 01 Mar 2020, 04:30 pm
Full price $25.00 | Concession $20.00
Sun 01 Mar 2020, 07:30 pm
Sun 01 Mar 2020, 08:30 pm
Full price $25.00 | Concession $20.00