ShakesBeer in the Garden
Sun 25 Nov 2018, 04:00 pm
Sun 25 Nov 2018, 07:00 pm
Southern Cross Garden Bar Restaurant
39 Abel Smith Street, Te Aro,
Wellington
Arts Culture, Theatre, Fundraising, Wellington Region
Wheelchair access, Accessible toilets
$20 adult, $15 concession, $10 under 12, under 5 free
Shakespeare Globe Centre NZ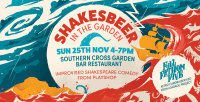 On (hopefully) a balmy late afternoon in November, PlayShop will be whipping up a storm at Southern Cross Garden Bar Restaurant, presenting an improve performance loosely based on The Tempest.
PlayShop is bringing you Shakespeare like you've never seen it, even if you came last year. From the best improvisors at this event, either for tragedy, comedy, history, pastoral, pastrol-comical, historical-pastoral, tragical-historical, tragical-comical-historical-pastoral, scene individable, or poem unlimited, an entirely new tempestuous Shakespeare play created before your very eyes. We are such improvisors as new plays are made (up) on (the spot), and our little plays are rounded with a jig.
To complement it, Garage Project has re-produced the appropriately named Full Fathom Five. There will be music to begin the event, and a themed traditional roast dinner available throughout the event.
All this is generously in aid of Shakespeare Globe Centre New Zealand (SGCNZ), to enable to it continue to offer its wide range of events and opportunities, especially for young people. PlayShop comprises largely SGCNZ Alumni. The staff at The Cross also get in on the act, dressing in Shakespeare costumes, as do the Staff and Interns of SGCNZ, all making for a delightful, bubbly, colourful experience!