SGCNZ National Shakespeare Schools Production 2018
Fri 05 Oct 2018, 06:30 pm
Fri 05 Oct 2018, 09:30 pm
University of Otago College of Education
145 Union Street East
Dunedin
Sat 06 Oct 2018, 07:30 pm
Sat 06 Oct 2018, 10:30 pm
University of Otago College of Education
145 Union Street East
Dunedin
Performing Arts, Theatre,
$15 Adults/$12 Adult Friends, $8 Students/$6 Student Friends
Shakespeare Globe Centre NZ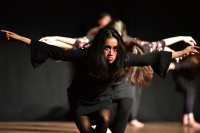 With New Zealand celebrating its 125th anniversary of Women's Suffrage Movement achieving the vote, it seems appropriate for the students at Shakespeare Globe Centre New Zealand National Shakespeare Schools Production (SGCNZ NSSP) 2018 to be focusing on three of his plays containing very strong females.
Scenes from Love's Labour's Lost, The Taming of the Shrew and Antony & Cleopatra will be directed by Jonathon Hendry, Kim Morgan and Colin Spicer respectively.
46 students, chosen from the 24 Regional and National SGCNZ University of Otago Sheilah Winn Shakespeare Festivals (UOSWSFs), will spend a week doing workshops with high calibre tutors and rehearsing their plays – starting from being cast on their first day, to performing 40 minutes from each play for the public just 5 days later!
Tickets can be purchased from iTicket here:
Event Dates
University of Otago College of Education
Dunedin
145 Union Street East
View on map
Fri 05 Oct 2018, 06:30 pm
Fri 05 Oct 2018, 09:30 pm
$15 Adults/$12 Adult Friends, $8 Students/$6 Student Friends
University of Otago College of Education
Dunedin
145 Union Street East
View on map
Sat 06 Oct 2018, 07:30 pm
Sat 06 Oct 2018, 10:30 pm