Seventh Generation Project Rangihoua- Save Our Wetlands
Wed 07 Nov 2018, 06:00 am
8 days ago, Wed 07 Nov 2018, 08:00 pm
Takutai Square
3, Maritime Building, 130 Quay St
Auckland
Auckland Region, Free Entry Event, Fundraising, Arts Culture
Free event - gold coin donation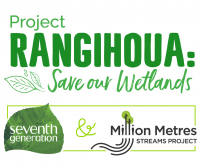 Help heal our Wetlands, join us in Britomart, along with iconic artist Flox.
Visitors receive Seventh Generation product with every gold coin donation
Iconic artist Flox creating bespoke wetland mural to be auctioned at a later date
Healthy wetland display
Come down to Takutai Square in Britomart to help heal our wetlands. Wetlands are the kidneys of the earth, filtering pollutants and contaminants that would otherwise wash into our rivers and oceans. Many of our native species and wildlife call them home, and today, only 10% of Aotearoa's former wetlands remain*.
A partnership between The Million Meters Stream Project and Seventh Generation is set to drive action towards protecting this precious resource that is critical to the health of the earth. Many hands make light work. One of Seventh Generation's founding missions is to collaborate deliberately, as together we can achieve things we couldn't on our own. Seventh Generation is committed to facilitating positive environmental change in the communities in which it operates.
The first project focuses on the restoration of the Rangihoua Wetland on Waiheke Island, working alongside the Waiheke Resources Trust. The team has the bold aim of fundraising $50,000 this summer to plant 4,000 native trees and shrubs, for the restoration of over 1,170 metres of wetland. For every donation received, Seventh Generation will provide matching funding, dollar for dollar up to $25,000.
* A Directory of Wetlands in New Zealand, Compiled by Pam Cromarty Edited by Derek A. Scott, for New Zealand Department of Conservation, 1996