Seasons
Sat 16 Oct 2021, 10:00 am - 11:00am
Expressions Whirinaki Arts & Entertainment Centre
836 Fergusson Drive
Upper Hutt
Children, Performing Arts, Theatre,
Wheelchair access, Accessible toilets
All tickets $8 (booking fees apply)
Expressions Whirinaki Arts & Entertainment Centre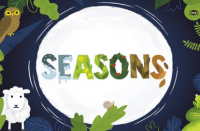 Capital E Theatre for Children is remounting Seasons, one of its most popular theatre productions from its 22-year repertoire. Beautifully crafted Seasons transports children through song, music, and puppetry into the four seasons - raumati, ngahuru, hotoke and koanga. Journey into nature's world of living creatures, colours and sounds.
Suitable for ages 2 onwards.