Screen Acting Holiday Weekend Workshop (ages 12-16)
5 days ago, Sat 14 Jul 2018, 10:00 am
4 days ago, Sun 15 Jul 2018, 04:00 pm
TAPAC - The Auckland Performing Arts Centre
100 Motions Road, Western Springs
Auckland
Children, Arts Culture, Conferences Workshops Classes, Education
Wheelchair access, Accessible toilets, Mobility parking
TAPAC The Auckland Performing Arts Centre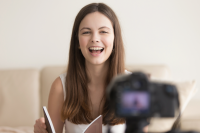 This screen acting weekend workshop will develop each students' understanding of what is required for a tv/film performance. Through exploring and playing with performance scenarios, scripts and characters as well as filming and watching back screen work, Fiona will bring out participants' unique creativity and confidence.
Come prepared to channel your enthusiasm for acting into a focussed performance for screen!
Teaching Artist:
Fiona Edgar
Fiona has worked in the performing arts for 30 years. Starting off she was a passionate writer and performer within live comedy shows such as A Girls Gotta Eat, The Barb Dwyer Show and I'm Gonna Marry Marvin. Over the last ten years she has had roles on several TV shows including Brokenwood Mysteries, Supercity, Terry Teo and Shortland St. Diversifying as actors do, she also spent over ten years working as a casting director mainly on TV commercials as well as some drama and cast the movie Broken English. Having also appeared in several TV commercials as an actress, Fiona brings a wide-ranging view of the acting profession to her classes. Her aim is to help students gain both knowledge and the confidence to help them tailor their performances to best suit screen acting and her classes are a mixture of techniques aimed at this outcome.