Scholars International Conference on Pediatrics and Neonatology
Mon 02 Dec 2019, 08:00 am
Tue 03 Dec 2019, 08:00 am
Rafael Hoteles Forum Alcala
CALLE DE BULGARIA, 2, 28802 ALCALá DE HENARES MADRID SPAIN
Madrid
Conferences Workshops Classes, Children Issues Causes,
Accessible toilets, Mobility parking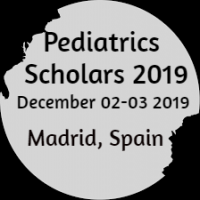 Scholars Conferences is proud to present the highly anticipated "Scholars International Conference on Pediatrics and Neonatology" (Pediatrics Scholars 2019) to be held on December 02-03, 2019 at Madrid, Spain. The conference programme consists of world-class keynote addresses, industry-led presentations, as well as extensive networking opportunities, creating an interactive platform for high-level scientific and business discussions.
Original generation time 0.5790 seconds.