Relay For Life
Sat 17 Mar 2018, 04:00 pm
Sun 18 Mar 2018, 09:00 am
Frank Kitts Park
Frank Kitts Park Wellington 6011
Wellington
Charity Causes, Recreational, Community,
Wheelchair access, Accessible toilets
$20 registration fee per person
The Cancer Society of Wellington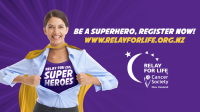 Relay For Life is an inspirational fun event for everyone of all ages and fitness levels, during which we Celebrate with survivors, Remember loved ones lost to cancer and come together as a community to Fight back against cancer.
This summer over 3000 people from around Wellington will come together to celebrate 15 years of Relay For Life.
Team members take turns relay style walking/running around a track while enjoying a carnival atmosphere of music, entertainment, food stalls and fantastic community spirit.
Families, service and community organisations, corporate groups, local businesses, schools and sporting clubs are encouraged to register for the event. Anyone and everyone can get involved!
Each participant will pay a $20 registration fee in their team of at least 10 people. The $20 registration includes overnight camping in a team marquee, Relay T-shirt, big breakfast on Sunday and eligibility for spot prizes at the event.
Participants are then encouraged to fundraise a minimum of $200 per person to enable Cancer Society to continue providing services to the community.
Visit the website now to register your team and Celebrate, Remember and Fight Back!