Realign The Margins- AAAH Zine Club
3 days ago, Tue 18 Sep 2018, 01:00 pm
3 days ago, Tue 18 Sep 2018, 04:00 pm
Te Pikitanga Gallery
Massey University Library, Wellington Campus, Mount Cook, Wellington 6021
Wellington
Arts Culture, Conferences Workshops Classes, Cultural Ethnic,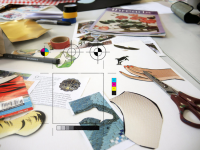 Realign The Margins: AAAH Zine Club is DIY cut-n-paste, writing, drawing and self-publishing studio held on-site at Massey University Library. It will feature an Asian New Zealand library display, exhibition, a free lunchtime talk with Ya-wen Ho & others, and two zine-making workshops lead by Helen Yeung (Migrant Zine Collective).
The open-access workshops focus on the nuances of Asian New Zealand identity in context with cultural experiences of Māori, Pakeha and Pasifika peoples. These workshops will provide encounters for students and others with a range of skill and knowledge levels to come together to participate in cross-cultural conversations, which will develop through art, design (making) and writing processes, and resolve in personal and collaborative hand-made print publications. The work produced from these workshops will be featured in the library exhibition and at Te Papa as part of the AAAH Symposium weekend.
Ya-wen Ho's Free lunch time talk will take place at 12-1pm, Wednesday 19 September, Te Pikitanga Gallery, Massey University Library, Wellington Campus
Register for one of these workshops here: https://realign-the-margins-aaah-zine-club.lilregie.com/booking/attendee...
------------------------------------------------------------------------------------
ABOUT AAAH2018
The Asian Aotearoa Arts Huì aims to support Asian New Zealand arts practitioners through presenting practice, sharing ideas and networking. The Huì aims to make visible settlement histories in Aotearoa and the creative cross-cultural conversations generating from our relationships with Māori, Pasifika, Pākeha, other migrant communities and with each other. This is a result of five years of sustained creative conversations and collaboration since the inaugural Chinese New Zealand Artists Hui at Corbans Estate, Auckland (2013) and the first Asian New Zealand Artists Hui at Te Tuhi in Auckland (2017).
AAAH2018 will be taking place this year from 3 - 23 September in Wellington, Aotearoa and will be hosted by Massey University College of Creative Arts (CoCA) and National Museum of New Zealand Te Papa Tongarewa. All Welcome.
Registrations are now open for the Saturday Symposium (22 Sep) at Te Papa:
https://aaah2018-symposium-at-te-papa.lilregie.com/booking/attendees/new
and weekend events, with more to come. All welcome.
Special thanks to our partners: Creative New Zealand, Wellington City Council, Chinese Poll Tax Heritage Trust, Asia New Zealand Foundation, Wellington Access Radio 106.1FM, Toi Pōneke Arts Centre, Te Tuhi, ST Paul Street AUT, Hainamana, Meanwhile Gallery, Enjoy Public Art Gallery, Blue Oyster Project Space, Pyramid Club, Big Thumb Restaurant & Carol Coutts Chartered Accountant.