QB Music Festival - The Topp Twins
Sun 02 Jun 2019, 08:00 pm
Sun 02 Jun 2019, 10:30 pm
Expressions Whirinaki Arts & Entertainment Centre
836 Fergusson Drive
Upper Hutt
Music, Wellington Region,
Wheelchair access, Accessible toilets
$45 Adult | $40 Friends of Expressions | $20 Student
Expressions Whirinaki Arts & Entertainment Centre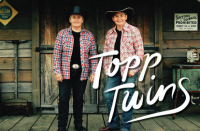 Queen's Birthday Music Festival presents - The Topp Twins.
New Zealand's best loved entertainers; The Topp Twins join the stage! The well-loved twin sisters, Dames Jools and Lynda Topp, invite you to join them in a special performance, one-night-only concert of comedy, politics, music and mirth. Featuring a retrospective celebration of the Topp Twins' career, with some new songs and stories The Topp Twins present pure acoustic country with distinctive double vocal harmonies, and of course… yodeling. A signature experience for all New Zealanders.