QB Music Festival - Blues Night- Chris Cain
Sat 01 Jun 2019, 08:00 pm
Sat 01 Jun 2019, 10:30 pm
Expressions Whirinaki Arts & Entertainment Centre
836 Fergusson Drive
Upper Hutt
Music, Wellington Region,
Wheelchair access, Accessible toilets
$45 Adult | $40 Friends of Expressions | $20 Student
Expressions Whirinaki Arts & Entertainment Centre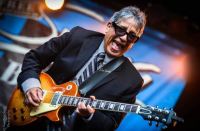 The one and only Chris Cain – star of the World Blues Revue with LA based Daniel Castro who has backed many great artists, including Pee Wee Clayton and Little Esther Phillips and legendary Small Faces. They are joined by bassist: Steve Evans, drummer: Ron E Beck and keyboardist: Ben Wilcock, one of New Zealand's star keyboardists. This will be one kick-ass blues show.