Parallel Gifts - Kindred Composers Separated by Centuries
View all Dates
Sun 17 May 2020, 02:30 pm
Sun 17 May 2020, 04:00 pm
The Public Trust Building
131-135, Lambton Quay
Wellington
Sun 17 May 2020, 06:30 pm
Sun 17 May 2020, 08:00 pm
The Public Trust Building
131-135, Lambton Quay
Wellington
Arts Culture, Wellington Region, Music,
Waged = $25 and Unwaged = $15
2 concerts: 2.30pm and 6.30pm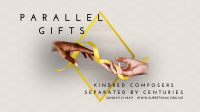 Supertonic will be performing Parallel Gifts: kindred composers, separated by centuries in two concerts in the magnificent Public Trust Hall. Accompanied by an octet from the impressive Virtuoso Strings Orchestra, the choir will explore the unique, deep and fascinating relationships between two sets of composers - Britten and Purcell, and Mendelssohn and Bach - and the musical notes that shaped their compositions.
This concert will juxtapose some of their most famous compositions - Britten's secular Hymn to St Cecilia and Purcell's own dedication to the patron saint of music, Welcome to All the Pleasures. Bach's very famous motet Jesu Meine Freude will be presented alongside one of Mendelssohn's most-sung sacred choral works, Sechs Sprüche.
Parallel Gifts will be a new frontier for Supertonic, presenting meaty classical music for every audience member - whether this is your first time hearing Bach live or whether you go to every performance of Britten you can get your hands on.
With low ticket prices, a new concert venue with a great acoustic, a 'concert guide' to help de-mystify classical music and the involvement of the Virtuoso Strings Orchestra, Supertonic highlights that classical music can be cross-cultural and cross-generational.
Event Dates
The Public Trust Building
Wellington
131-135, Lambton Quay
View on map
Sun 17 May 2020, 02:30 pm
Sun 17 May 2020, 04:00 pm
Waged = $25 and Unwaged = $15
The Public Trust Building
Wellington
131-135, Lambton Quay
View on map
Sun 17 May 2020, 06:30 pm
Sun 17 May 2020, 08:00 pm
Waged = $25 and Unwaged = $15