Paper crafting Expo Wellington
5 days ago, Sat 19 Oct 2019, 09:30 am
Tue 29 Oct 2019, 04:30 pm
Te Rauparaha arena
17 Parumoana Street
Porirua
Crafts, Wellington Region, Shopping Retail,
Wheelchair access, Accessible toilets, Mobility parking
Paper crafting Expo - scrapbooking/card making/mix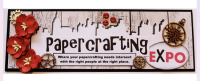 One day expo with a range of local and national stores together in one location to shop and learn new things. Demo and make'n'takes will be offered thru-out the day. Great for Scrapbookers, card makers and anyone into mix media.