ORO Haaruru Artist Sculpting Event
Mon 01 Oct 2018, 10:00 am
Sat 20 Oct 2018, 04:00 pm
ORO Haaruru
614 Salisbury Road Midhirst
Stratford
Free Entry Event, Arts Culture, Exhibitions, Visual Arts
Public sculpture event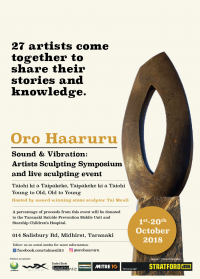 The Host's focus derives from his passion for Art symposiums and the gathering of like- minded people. These events are about generating knowledge from the spearhead of the lived historian Artists of Aotearoa New Zealand; giving to the generation of emerging Artists in a raw and exploding environment of sharing techniques, abilities, achievements. Stories of Maunga/Mountains climbed, Awa/Rivers crossed, and their individual trials and tribulations made in the traversed roads of life.
There are many facets to this symposium; a contribution, a reverence to all the Artists, ways and means of the old and young combined, a re-alignment of the feminine and the masculine, the flow of ideas, points of difference, bringing forth again, and the vibrations of the good old days.
As part of the significance of this "Oro Haaruru event", Suicide prevention NZ andStarship Children's Hospital are the two organisation's that have been chosen to receive a contribution of the sales.
In the year of 2017, 500 people died by suicide in Aotearoa New Zealand. This has a devastating impact on the loved ones left behind. Also, the Starship Hospital's vision is tocreate meaningful and magical opportunities that enrich the health of every young New Zealander. So, with this in mind the Artists, organizers and Host Tai Meuli, believe that these are the two causes they would like to share their support and donations to.
We are also asking year 8 students from all schools in Stratford and local areas to participate in a Design competition. The winning design will be then created by winning students and artists Tai Meuli and Paul Olson.
These Artists are Grandfathers, Fathers, Uncles, Sons, Brothers and Nephews who have seen and been a part of the impact and now they just want to give back.
Supporting this Event with be supporting our up and coming "Generations ofInspiration".