Old St Paul's Lunchtime Concert - David Trott - Organist
Tue 10 Jul 2018, 12:15 pm
Tue 10 Jul 2018, 01:00 pm
Old St Paul's
34 Mulgrave Street Thorndon
Wellington
Arts Culture, Gigs Concerts, Music, Performing Arts
Wheelchair access, Accessible toilets
Koha of $5 is appreciated to help with expenses. Entry is free but your koha is welcomed
Koha of $5 is appreciated to help with expenses. E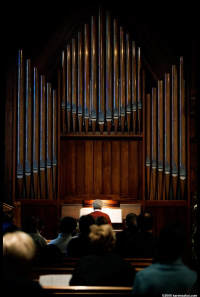 David Trott:
Born in the UK, David became a choirboy at age 6. He was always fascinated by the organ - the vast array of knobs, pipes and tonal qualities available to a single player.
He began organ lessons as soon as his legs were long enough to reach the pedals and played for his first church service at age 8 becoming sub organist at Prittlewell when he was 12.
Before his 16th birthday, David was appointed the director of music at Hadleigh - he has been conducting choirs and playing the organs ever since – playing at notable London churches St Mary Aldermary and All Saints Margaret Street for weekday services.
David moved to South Africa in 1970 – during his stay there he was organist at both Cathedrals and conducted the University Choir.
In 1989 he moved to New Zealand and was introduced to Maxwell Fernie and the wonderful organ at St Mary of the Angels by a Kiwi ex-chorister from the Cathedral of Christ the King in Johannesburg.
He spent a very happy time conducting the Phoenix choir of Wellington. David has given recitals in the UK, Europe, Australia and New Zealand.
He has been the Director of Music at Old St Paul's and St Mary's Karori for some years as well as playing organ at St Mary of the Angels where everyone is delighted to be back in a 'seismically safe' church.
David's programme on Tuesday includes a number of special requests and he will conclude, as usual, by improvising on a theme from the audience.
Koha of $5 is appreciated to help with expenses. Entry is free but your koha is welcomed.
Take your lunch break, bring your sandwiches or purchase soup and a bread roll and enjoy a sublime concert.
Arrive earlier, or linger after the concert to take in the majesty and treasures that is Old St Paul's.
Visit our gift shop for some unique and special things to give or keep. Just browsing is welcome – check out the Friends of Old St Paul's recent publication "A Friend Indeed – The Saving of Old St Paul's"