Old St Paul's Art Exhibition
Thu 12 Apr 2018, 05:00 pm
Thu 26 Apr 2018, 05:00 pm
Old St Paul's
34 Mulgrave St, Thorndon
Wellington
Exhibitions, Arts Culture, History,
Wheelchair access, Accessible toilets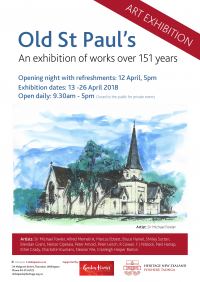 You are warmly invited to join us for some refreshments and the exhibition opening of 'Old St Paul's Art' on Thursday 12th April at 5.00pm.

Old St Paul's is 151 years of age, and we are celebrating how the church has been portrayed over these wonderful years.
The artwork will be mixed media's, and will be both interior and exterior of the church.

The exhibition is a group show of 16 artists whom are from different periods in time:

Sir Michael Fowler, Alfred Memelink, Marcus Ebbett, Bruce Haniel, Shirley Sutton, Brendan Grant, Nestor Opetaia,
Peter Arnold, Peter Leitch, R Cowan, F J Niblock, Neil Harrap, Ethel Grady, Charlotte Youmans, Eleanor File, Cranleigh Harper Barton.

The exhibition will run for 2 weeks and dates are as follows: 13 -26 April. Open from 9.30am-5pm daily. Please note we are closed to the public for private events

Many thanks to the support of Gordon Harris.