NZ Shell Show 2018
Sat 01 Dec 2018, 09:00 am
Sun 02 Dec 2018, 04:00 pm
Toitū Pōneke Community and Sports Centre - thehub - Kilbirnie Park, Wellington
49 Kilbirnie Crescent,
Wellington
Children, Hobbies Special Interest,
Wheelchair access, Accessible toilets, Mobility parking
Family $7, Adult $4, Child $2
The Shell Show is organised by the Wellington Shel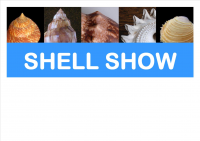 Rare and beautiful shells from around the world will be on display to the public at the New Zealand Shell Show - to be held at Toitū Pōneke Community and Sports Centre, Kilbirnie Park on 1 & 2 December 2018. This opportunity only comes to Wellington every 4 years and the Show will feature competitive and educational displays of NZ and world-wide shells – also shells, shell art, books and craft materials for sale. The Show is very affordable and enjoyable for all ages. The shells on display will range from tiny to huge, will come from our local beaches and from special, remote places around the world, and will be every colour of the rainbow.