Nicolini's
26 Courtenay Place, Wellington
Phone 04 802 4442
Opening Hours: Tuesday to Sunday 5.30pm to late. Closed Monday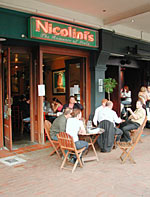 Established in 1997 Nicolini's is a family owned and run trattoria-restaurant catering for everyone and every taste. Available on the menu are generous and full-flavoured entrees, pastas and meats cooked the old fashioned (Italian) way all accompanied by an extensive wine list comprising of Italian, local and Australian wines for all budgets.
Owners Raffaele and sons: Antonio, Fabrizio, Gianpiero and Marlon have been in Wellington over 20 years, are 3rd and 4th generation of a family of restaurateurs which have been involved in restaurants, cafes and wholesale/retail hospitality stores in Italy, the U.S.A., Australia and now New Zealand for more than 90 years!
Nicolini's is a "no frills" "no spring onions 35 degrees east of a perfectly sliced tomato" restaurant, based on the family's previously owned fine-dining and deli/café establishments. The result is honest prices and honest food cooked with the best ingredients, flavour and atmosphere in town.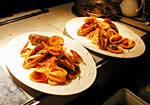 Much of the pasta is fresh, using different fillings, some hand-made by a dear Italian friend residing in Australia - a winner of the "Best Pasta in Australia" for many years, using fresh ingredients like ricotta, spinach and parmiggiano. The menu also includes fish, pork, white veal, beef fillets, sirloins and steaks, seafood and daily specials.
If in luck you could also find on the specials the home-made mozzarella that Raffaele and his wife Maria sometimes make (the first Bufalo mozzarella made in New Zealand back in 1989) - which was classified by Elizabeth Harbutt (who is a New Zealander that holds one of the very few "master of cheese" degrees in the world), as "one of the best", comparing to the ones produced in Italy.
Special dishes for diabetics, celiacs, vegetarians and vegans can also be catered for, given notice. They will even cook any dish the customer wants, as long as they have the ingredients and of course customer patience! The complete menu is also available for takeaways.
Functions and Parties can be catered for taking full advantage of the two dining rooms, which can also be booked/closed for private dinners. All functions are personally organised and managed by the family to ensure satisfaction for the variety of budgets, styles and clients.
The team at Nicolini's are waiting to provide you with a great dining experience.