New Zealand School of Dance- Emerge
Fri 18 Oct 2019, 07:00 pm
Fri 18 Oct 2019, 08:30 pm
Expressions Whirinaki Arts & Entertainment Centre
836 Fergusson Drive
Upper Hutt
Sat 19 Oct 2019, 02:00 pm
Sat 19 Oct 2019, 03:30 pm
Expressions Whirinaki Arts & Entertainment Centre
836 Fergusson Drive
Upper Hutt
Performing Arts, Dance, Wellington Region,
Wheelchair access, Accessible toilets
$19 Adult, $12.50 Child under 13 years, $16 Senior, Student or Groups 10+, $8 School/Dance Groups
Expressions Whirinaki Arts & Entertainment Centre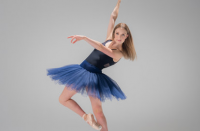 The New Zealand School of Dance returns to Expressions Whirinaki Arts & Culture Centre with a diverse programme of classical ballet and contemporary dance. The repertoire will feature exciting highlights from timeless classics to strikingly powerful new work. Enjoy future stars of the dance world in a showcase that includes choreography by Peter Darrell, Christopher Wheeldon, Sam Coren and Scott Ewen.
Event Dates
Expressions Whirinaki Arts & Entertainment Centre
Upper Hutt
836 Fergusson Drive
View on map
Fri 18 Oct 2019, 07:00 pm
Fri 18 Oct 2019, 08:30 pm
$19 Adult, $12.50 Child under 13 years, $16 Senior, Student or Groups 10+, $8 School/Dance Groups
Expressions Whirinaki Arts & Entertainment Centre
Upper Hutt
836 Fergusson Drive
View on map
Sat 19 Oct 2019, 02:00 pm
Sat 19 Oct 2019, 03:30 pm
$19 Adult, $12.50 Child under 13 years, $16 Senior, Student or Groups 10+, $8 School/Dance Groups