Hip Hop Dance Holiday Programme (ages 5-7)
Mon 09 Jul 2018, 09:00 am
8 days ago, Tue 10 Jul 2018, 03:00 pm
TAPAC - The Auckland Performing Arts Centre
100 Motions Road, Western Springs
Auckland
Children, Arts Culture, Conferences Workshops Classes, Education
Wheelchair access, Accessible toilets, Mobility parking
TAPAC The Auckland Performing Arts Centre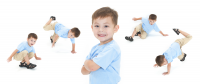 Hip Hop is a fun and energetic way to get kids moving! In this class students will learn a hip hop routine using multiple styles of hip hop dance. This is a super fun environment where kids can learn at their own pace, and through a variety of dance-based games. Parents can view their child's work at a performance on 2:30pm Tuesday July 10.
Teaching Artist:
Richie Cesan
Richie has been dancing since he was 5-years-old and has studied Ballet, Tap Jazz Contemporary and Hip Hop completing major exams in Jazz and Tap. Richie graduated with Bachelor Of Performing Arts (Dance) in 2007. In 2006 he co-founded TMC Dance crew, which became one of NZ's foremost Hip Hop Dance Crews, representing NZ at the World Hip Hop Champs in 2007 and again in 2009. Richie has been nominated three times for the TEMPO dance Festival Young Choreographer award winning in 2009. Richie also teaches at several schools as an itinerant teacher and is the director of the BoyzDance2 company. Richie is a member of the Identity Dance Crew and is also a foundation choreographer for the very successful 'Out of the Box' production which has featured at the TEMPO Dance Festival.
Original generation time 0.7499 seconds.