Gospel and Brass
Sat 28 Jul 2018, 07:00 pm
Sat 28 Jul 2018, 09:00 pm
The Salvation Army Wellington Citadel
92 Vivian Street
Wellington
Free Entry Event, Music, Family,
Wheelchair access, Accessible toilets
The Salvation Army Wellington Citadel Band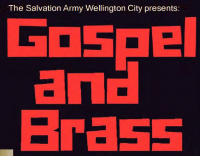 An exciting FREE concert comprising Gospel and brass music.
Based in Hamilton, the Hamilton Community Gospel Choir (HCGC) is an interdenominational choir of all ages, made up of people who love to sing gospel style and present the love of Jesus Christ through song.
The Wellington Citadel Band of The Salvation Army has remained at the forefront of the brass band movement in New Zealand since its inception in 1883. One of the longest surviving and consistent brass bands in the country, with a regular programme of Salvation Army and Civic events across the city and to other parts of New Zealand.