Girl You Want
Fri 09 Mar 2018, 07:00 pm
Fri 09 Mar 2018, 07:55 pm
BATS Theatre
1 Kent Terrace
Wellington
Sat 10 Mar 2018, 07:00 pm
Sat 10 Mar 2018, 07:55 pm
BATS Theatre
1 Kent Terrace
Wellington
Sun 11 Mar 2018, 07:00 pm
Sun 11 Mar 2018, 07:55 pm
BATS Theatre
1 Kent Terrace
Wellington
Theatre, Performing Arts,
Memory, teenage rebellion, female rites of passage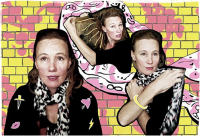 Girl You Want is a rumination on memory, teenage rebellion and female rites of passage.
"Hopefully there's a sequel, because on the strength of this, Mitchell has plenty of material to work with and the talents to craft it into something both exciting and poignant." - Tim George, Theatrescenes
It's 1983. Jess is 17. Her teenage rebellion is a roller-coaster through Auckland's underground '80s scene, culminating in a crisis that could change the course of her life. Tessa Mitchell plays herself, her teen alter-ego, and many colourful characters. This multi-media extravaganza promises a wild romp through 1980s counter-culture you won't forget.

Girl You Want extends a semi-autobiographical collection of monologues written by Tessa Mitchell into a solo theatre piece. This show draws on text from her original collaboration I Wanna Be Na Nah Na Nah Nah which received The Auckland Fringe Award for Innovation.

Girl You Want has played seasons at Auckland's Basement theatre and Melbourne's La Mama theatre to great houses and reviews.
Event Dates
Fri 09 Mar 2018, 07:00 pm
Fri 09 Mar 2018, 07:55 pm
Sat 10 Mar 2018, 07:00 pm
Sat 10 Mar 2018, 07:55 pm
Sun 11 Mar 2018, 07:00 pm
Sun 11 Mar 2018, 07:55 pm