Generation Homes La Grande Swim
Sat 20 Feb 2021, 06:30 am - 1:30pm

Akaroa Rec Grounds
Christchurch
Sport, Active Recreation, Family, Canterbury Region,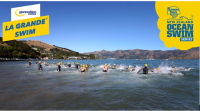 Bonjour Akaroa! We're back again in this picturesque seaside village, with an incredible line-up of swims to choose from, starting in the morning this time around to maximise the tranquil conditions in the bay. The Generation Homes La Grande Swim is essential for your 'Kiwi Summer Swimming Roadie' if you're taking on the only endurance distance in the Series, the 5km 'Wainui to Akaroa'. Now that's a reason to fist-pump the sky when you cross that finish line! Why not make a weekend of it in the beautiful bay area and experience the distinctly French-influenced restaurants, boutiques and galleries.
Swims on offer:
Wainui to Akaroa – 5km – cross the Harbour in our longest swim of the Series
The Akaroa Bay – 2km
Beach to Rec Grounds – 750m
Banana Boat OceanKids 100m and 200m (7-10 years)
The Generation Homes La Grande Swim is proud to host the 2021 Makos Zonal Secondary School Open Water Swimming Championships. All swimmers enrolled in a Secondary School (Year 9-13) within the Makos Zone on the date of this event can opt to compete in these championships by selecting their school in the entry form. Championship swim distances include a 750m, 2000m and 5000m. Swimmers will be eligible for both Secondary School and Banana Boat Ocean Swim Series prizes and medals. For more information visit the Swimming New Zealand website. Enter by hitting the big yellow button top right!