Free Open Night at our new rehearsal Hall
5 days ago, Wed 07 Feb 2018, 08:00 pm
5 days ago, Wed 07 Feb 2018, 10:00 pm
Harmony Church
220 Antigua Street
Christchurch
Free Entry Event, Music, Arts Culture, Performing Arts
Wheelchair access, Accessible toilets, Mobility parking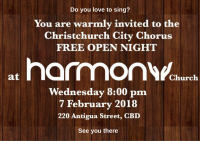 Ladies! Do you love to sing? Do you love Musical movies such as "Pitch Perfect 3" or "The Greatest Showman"?
Please check us out, we might just be the group you are looking to join.

Come along to our 'FREE OPEN NIGHT' if you are interested in finding out more about us.
Wednesday 7 February 2018 from 8.00 - 10.00 pm including QUESTIONS and ANSWERS
Watch us at our new rehearsal venue Harmony Church, 220 Antigua Street, Christchurch Central.

Plenty of parking. Just turn up! All ages welcome.
If you need convincing, listen to the chorus singing here: youtu.be/P7DIRVuaRKE
Or, for more information, you can contact Angela at 021 299 1168

The Christchurch City Chorus is Australasia's premiere international award winning women's a cappella chorus. The Chorus was founded in 1985 and is directed by Virginia Humphrey-Taylor. We have over 100 members with ages ranging from early 20's to 70's.
In 2016 the Chorus was placed 5th at the Sweet Adelines International Convention. It was also voted the Most Entertaining chorus by members of the audience.
See you there

Original generation time 0.3221 seconds.