Flax Weaving Wall Artwork Workshop - Golden Bay
Wed 10 Jul 2019, 10:00 am
Wed 10 Jul 2019, 02:30 pm
Wild Sands Weaving Studio
22 Pakawau Bush Road Pakawau
Golden Bay
Thu 11 Jul 2019, 10:00 am
Thu 11 Jul 2019, 02:30 pm
Wild Sands Weaving Studio
22 Pakawau Bush Road Pakawau
Golden Bay
Conferences Workshops Classes, Arts Culture, Recreational,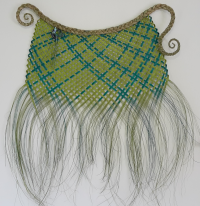 Creative Flax Weaving & Dyeing Workshop - Create your own beautiful & unique handwoven artwork for the wall.
Date: Wednesday 10th & Thursday 11th July 2019
Time: 10.00am - 2.30pm both days
Venue: Wild Sands Studio, 22 Pakawau Bush Road, Pakawau, Golden Bay
Price: $135 per person
This workshop is suitable for both intermediate and experienced weavers. Skills demonstrated and taught will include preparation of flax/harakeke, dyeing, plaiting and weaving. All participants will create and decorate their own beautiful and unique handwoven wallhanging.
Paua and beads will be available for purchase at the workshop. Feathers available at no cost.
For more information & to register visit: https://www.wildsandsweaving.co.nz/event/flax-weaving-dyeing-workshop-handwoven-wall-artwork-golden-bay
Event Dates
Wild Sands Weaving Studio
Golden Bay
22 Pakawau Bush Road Pakawau
View on map
Wed 10 Jul 2019, 10:00 am
Wed 10 Jul 2019, 02:30 pm
Wild Sands Weaving Studio
Golden Bay
22 Pakawau Bush Road Pakawau
View on map
Thu 11 Jul 2019, 10:00 am
Thu 11 Jul 2019, 02:30 pm