Fear of Eggs
Tue 20 Mar 2018, 07:00 pm
Tue 20 Mar 2018, 08:00 pm
BATS Theatres - the Heyday Dome
1 Kent Tce, Te Aro, Wellington
Wellington
Wed 21 Mar 2018, 07:00 pm
Wed 21 Mar 2018, 08:00 pm
BATS Theatres - the Heyday Dome
1 Kent Tce, Te Aro, Wellington
Wellington
Thu 22 Mar 2018, 07:00 pm
Thu 22 Mar 2018, 08:00 pm
BATS Theatres - the Heyday Dome
1 Kent Tce, Te Aro, Wellington
Wellington
Fri 23 Mar 2018, 07:00 pm
Fri 23 Mar 2018, 08:00 pm
BATS Theatres - the Heyday Dome
1 Kent Tce, Te Aro, Wellington
Wellington
Sat 24 Mar 2018, 07:00 pm
Sat 24 Mar 2018, 08:00 pm
BATS Theatres - the Heyday Dome
1 Kent Tce, Te Aro, Wellington
Wellington
Dance, Performing Arts, Theatre,
Full: $20, Concession: $15, Fringe Addict: $14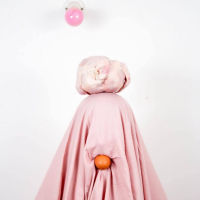 WINNER - Most Promising Emerging Company, SYNZ, Pacific Studios, Best Poster Awards
RUNNER UP - Best In Fringe, Outstanding Performer (NZ Fringe '16)
RUNNER UP - Most Innovative Work (NZ Fringe '16 and '17)
"Eliza & Charles Sanders are important artists who give us an alternate view of the world"
— Suzy Wrong, Suzy Goes See (SYD) & Auditorium (UK)
"Occasionally an artist emerges who possess the thrill to surprise. Eliza Sanders is such an artist… Sanders' work is a new experience in the lexicon of dance." — Peter Wilkins, Canberra Critics Circle (ACT)
Following on from the success of Knitting While Sleeping (winner of 2 NZ fringe Awards) and Feet.Us (which garnered a Fringe awards nomination despite being only a developmental showing) House of Sand's newest work Fear of Eggs will continue to thrill and surprise audiences with their now-signature visceral performance style and whimsically absurd theatrical language.
Children scorning childhood, the time of wonder, the growing time of the soul.
Soul of the time, growing the wonder of time, the childhood scorning children.
Abstracted memories from our past lives: lived, reborn, unearthed. Bodies of flesh and mess experience fragmented stories of love, loss, nurturing and nonsense.
The third in House of Sand's series of works exploring care, responsibility and the parent/child relationship, Fear of Eggs asks how are the moments of a life recorded and re-lived? On flesh, and on film. Full of evocative nostalgic images and virtuosic but childlike dance, Fear of Eggs will appeal equally to first time dance audiences dance aficionados.
"This is the show for anyone who's been too nervous to go to see modern dance. It offers a variety of audience experiences all of which give you a fascinating look at an emotional, impressively physical world." — Brooke Mathers, Art Murmurs (of Knitting While Sleeping)
Event Dates
Tue 20 Mar 2018, 07:00 pm
Tue 20 Mar 2018, 08:00 pm
Full: $20, Concession: $15, Fringe Addict: $14
Wed 21 Mar 2018, 07:00 pm
Wed 21 Mar 2018, 08:00 pm
Full: $20, Concession: $15, Fringe Addict: $14
Thu 22 Mar 2018, 07:00 pm
Thu 22 Mar 2018, 08:00 pm
Full: $20, Concession: $15, Fringe Addict: $14
Fri 23 Mar 2018, 07:00 pm
Fri 23 Mar 2018, 08:00 pm
Full: $20, Concession: $15, Fringe Addict: $14
Sat 24 Mar 2018, 07:00 pm
Sat 24 Mar 2018, 08:00 pm
Full: $20, Concession: $15, Fringe Addict: $14