Family Colour Walk and Fun Day
7 days ago, Sun 11 Mar 2018, 01:00 pm
7 days ago, Sun 11 Mar 2018, 04:00 pm
Te Whiti Park, Waiwhetu
172 Whites Line East, Waiwhetu, Lower Hutt
Lower Hutt
Community, Children, Food Drink, Health Wellness
Wheelchair access, Mobility parking
$20 for a family pass/ $10 adults / $6 children / gold coin activities
Family event suitable for all ages.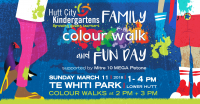 Hutt City Kindergartens, supported by Mitre 10 MEGA Petone, are excited to invite you to join us for an afternoon of fun!
The day starts at 1pm, with music and kids entertainment, and then the two 800 metre Colour Walks will commence at 2 pm and 3 pm.
This event is an opportunity to bring our community together for a few hours of fun, with the chance to participate in some really cool, low cost activities that will help raise some funds for Waiwhetu and Waterloo Kindergartens.
We will have a variety of food trucks, but feel free to bring your own picnic down to the park. We are promoting this as a healthy event for our whanau, so please leave any alcohol at home. Make sure to bring your own water bottle!
Our main event will be the fun colour walks around Te Whiti Park with paint stations set up at the 200m, 400m and 600m marks. At each station, people will be encouraged to throw powdered paint at each other. A fun way to brighten up the walk! There will be bags of paint available for purchase at each station.
You will need a ticket to take part in the two colour walks. Additional colour packets can be purchased on the day for $5.
This event is hosted by Waiwhetu and Waterloo Kindergartens, and proudly supported by Mitre 10 MEGA Petone, Pelorus Trust and Supervalue Woburn.