Experience Christmas in Petone
Sat 01 Dec 2018, 11:00 am
Sun 23 Dec 2018, 03:30 pm
Old Historical Police Station
274b Jackson Street, Petone, Lower Hutt
Petone
Children, Free Entry Event, Community,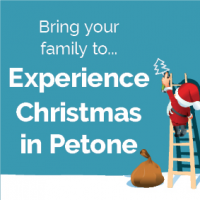 The Jackson Street Programme open the Santa's Grotto, where your Santa photos are FREE! Santa resides in Petone up to four weeks of the year at 274b Jackson Street, Petone in the Old Historical Police Station Lock Up.
The old Lock Up is transformed from a Police Museum into an entertaining, interactive Christmas Grotto that children's dreams are explored beyond their imaginations.
Travel to Petone for the day to check out this year theme, Winter Wonderland, and keep our elves on their toes as the people of all ages explore. Once the Grotto has been explored, the children are able to meet Santa and get free photographs of this special moment.
A designated room within the Santa's Grotto is set up for Women's Refuge, where presents are left from caring strangers. We hear the children ask why do we leave presents here? While they are given an explanation our heart breaks with joy by the generosity of the community for this cause every year.
In the weekends, parents, caregivers or grandparents head off down Jackson Street in the sunshine on a free Treasure Hunt. The kids enjoy spending time writing letters to Santa and post them in the Santa's letter box at 274b Jackson Street, Petone. Santa writes back to every letter. So much sure you include a return address!