David Correos Better Than I Was The Last Time
Tue 14 May 2019, 08:30 pm
Tue 14 May 2019, 09:30 pm
The Fringe Bar
26 - 32 Allen St
Wellington
Wed 15 May 2019, 08:30 pm
Wed 15 May 2019, 09:30 pm
The Fringe Bar
26 - 32 Allen St
Wellington
8 days ago, Thu 16 May 2019, 08:30 pm
8 days ago, Thu 16 May 2019, 09:30 pm
The Fringe Bar
26 - 32 Allen St
Wellington
7 days ago, Fri 17 May 2019, 08:30 pm
7 days ago, Fri 17 May 2019, 09:30 pm
The Fringe Bar
26 - 32 Allen St
Wellington
6 days ago, Sat 18 May 2019, 08:30 pm
6 days ago, Sat 18 May 2019, 09:30 pm
The Fringe Bar
26 - 32 Allen St
Wellington
Comedy, Festivals, Wellington Region, Performing Arts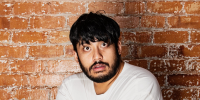 David is the proper nonsense. Over the last year his shows have pushed the boundaries from Adelaide to Edinburgh, now he's back in New Zealand. If you've seen David before, you know this is appointment viewing, if you haven't, then grab your pals and come witness the actual comedy maelstrom that will be unleashed.
"this is probably the funniest show I have seen this comedy fest" – thespeakeasy.co.nz
He's won the Billy T Award, he's been on the TV, so you know this is legit.
The superlatives ran out a long time ago with David, all that's left to say is that this will be unmissable.
Event Dates
Tue 14 May 2019, 08:30 pm
Tue 14 May 2019, 09:30 pm
Wed 15 May 2019, 08:30 pm
Wed 15 May 2019, 09:30 pm
8 days ago, Thu 16 May 2019, 08:30 pm
8 days ago, Thu 16 May 2019, 09:30 pm
7 days ago, Fri 17 May 2019, 08:30 pm
7 days ago, Fri 17 May 2019, 09:30 pm
6 days ago, Sat 18 May 2019, 08:30 pm
6 days ago, Sat 18 May 2019, 09:30 pm