East by West Ferry
Queens Wharf, Wellington
Phone 04 499 1282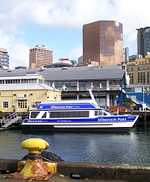 Experience the best of Wellington with a cruise on Wellington Harbour with East by West Ferries. 15 return scheduled sailings are made daily during the week between Queens Wharf, Matiu/Somes Island and Days Bay. And on the weekends enjoy a Harbour Explorer Tour which includes stops at Petone, Seatoun, Days Bay, Matiu/Somes Island and Queens Wharf. Direct sailings between Queens Wharf and Days Bay take around 20 minutes and a stop over at Matiu/Somes Island (well worth a visit) adds a further 10 minutes sailing time.
It's common to see dolphins and other sea life playing in the harbour, and the skippers and friendly crew just love an opportunity to share with passengers their wealth of knowledge on the harbour, its history and people. The views of Wellington's cityscape and the hills and suburbs surrounding and beyond are fabulous from the water and you'll certainly get a sense of the region's landscape and town planning. And once back on dry land, an extension of a water cruise can include a stroll around Queens Wharf, across to Lambton Quay and up the Cable Car to the Botanic Gardens and Kelburn.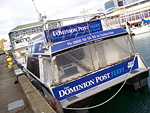 Chartering a cruise with East By West is a great way to share the harbour's beauty with friends, family or colleagues. The Summer Evening Cruises are very popular and these cruises are catered with an open bar. Numbers are restricted to 65 guests. Enquire about menus, costs and minimum numbers with the Events Manager. Other favourite adult cruises include the fun Casino Cruise and the Cocktail Cruise. Or if you have a theme in mind, talk to the friendly staff and they'll be happy to oblige.
East By West cruises are also especially tailored for school field trips. The school cruises available including the Harbour Discovery, Matiu/Somes Exploration or a whole-day excursion. Called the Fish & Chips Cruise, school parties get to explore sea and shore, Matiu/Somes Island and the ships and history of Petone and Wellington at the Museum of Wellington and the Petone Settlers Museum. Treat of the day is the fish and chips for lunch!