Coastella Music Festival
44 hours ago, Sat 17 Feb 2018, 02:00 pm
35 hours ago, Sat 17 Feb 2018, 11:30 pm
Southward Car Museum
Otaihanga Rd, Otaihanga, Paraparaumu 5036
Paraparaumu
Festivals, Music, Gigs Concerts,
Wheelchair access, Accessible toilets
Early bird $65 Pre-sales $75 Door sales $90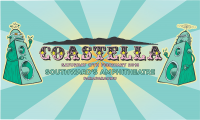 Coastella Music Festival is returning on 17th February 2018. Building on the growing success of the first two festivals, the 2018 line-up showcases a diverse range of local and international music from energetic folk and indie rock to Japanese banjo, brass and Balkan madness!
We will be announcing the full programme when tickets go on sale Thursday 26th October. Like our Facebook page for sneak peaks and updates so you never miss a beat!