Big Play Out - Spring Series 2018
Mon 05 Nov 2018, 09:30 am
Mon 05 Nov 2018, 12:00 pm
Grasslees Reserve
Grasslees Reserve
Tawa
Tue 06 Nov 2018, 09:30 am
Tue 06 Nov 2018, 12:00 pm
Otari Wilton Bush
160 Wilton Rd, Wilton, Wellington
Wellington
7 days ago, Thu 08 Nov 2018, 09:30 am
7 days ago, Thu 08 Nov 2018, 12:00 pm
Shorland Park
Reef Street and The Esplanade, Island Bay
Wellington
6 days ago, Fri 09 Nov 2018, 09:30 am
6 days ago, Fri 09 Nov 2018, 12:00 pm
Freyburg Beach
Oriental Parade
Wellington
Wed 07 Nov 2018, 09:30 am
Wed 07 Nov 2018, 12:00 pm
Whareroa Farm
State Hwy, Mackay 5034
Paekakariki
Children, Community, Wellington Region, Family
Wheelchair access, Accessible toilets, Mobility parking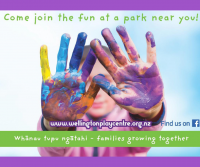 Join our Playcentre tamariki for a Big Play Out in the park between 9.30 - 12 at a park near you!
We will be bringing FREE exciting preschool activities with us for your preschooler to explore while outside in the fresh Spring air. Come play with us at all the different activities at each venue and make a week of it.
Dates and Venues
Monday 5 Nov- Grasslees Reserve, Tawa.
Bikes and ride-ons, Sandpit fun, SLIME slide & Face painting.
Tuesday 6 Nov- Otari Wilton Bush Information Centre, Wilton
Ice nature treasure exploration, ukulele, waiata and instruments to play, BIG bubbles and baby soft climbing area and ball pit, nature scavenger hunt.
Wednesday 7 Nov- Whareroa Farm
- Whareroa Farm
Teddy Bears picnic. Bring your favourite soft toy and some kai for a shared morning tea ( NO nuts please) and join Paremata Playcentre for bubbles, chalk pavement art, exploring the walking tracks and small clearings nearest to the carpark and toilets.
BYO sun hats & block, sturdy shoes, water bottle, warm tops or jacket, change of clothes and adults hot drink too.
Thursday 8 Nov - Shorland Park, Island Bay
Bubble Man from 'Pop' bubbles, ride-on electric 'Thomas' train to take turns on, Ice play and perhaps a trough or two of GLOOP
Friday 9 Nov ( Two events)
- Freyberg Beach, Oriental Bay
Treasure Hunt DIG! Sit on diggers, gutters, LOTS of sand equipment and water play.
-Paekakariki Orchard and Garden (at the Queen Elizabeth Park end of Tilley Road) Paekakariki
Waiata (songs), kēmu (games), pakiwaitara (stories) me te mea nui, te tākaro! (play) in the beautiful community garden. It's a unique opportunity to practise te reo maori with your tamariki, led by a FLUENT Kaiarahi Māoritanga.
Weather cancellations will be posted in this event on Facebook by 8am the day of the event.
Unfortunately a wet weather venue is not available but feel free to contact your local Playcentre for a visit instead.
Event Dates
Mon 05 Nov 2018, 09:30 am
Mon 05 Nov 2018, 12:00 pm
Otari Wilton Bush
Wellington
160 Wilton Rd, Wilton, Wellington
View on map
Tue 06 Nov 2018, 09:30 am
Tue 06 Nov 2018, 12:00 pm
Whareroa Farm
Paekakariki
State Hwy, Mackay 5034
View on map
Wed 07 Nov 2018, 09:30 am
Wed 07 Nov 2018, 12:00 pm
Shorland Park
Wellington
Reef Street and The Esplanade, Island Bay
View on map
7 days ago, Thu 08 Nov 2018, 09:30 am
7 days ago, Thu 08 Nov 2018, 12:00 pm
6 days ago, Fri 09 Nov 2018, 09:30 am
6 days ago, Fri 09 Nov 2018, 12:00 pm