Beauty and the Beast by David Tayler
Sat 24 Feb 2018, 02:30 pm
Sat 24 Feb 2018, 04:30 pm
Khandallah Park
Woodmancote Road Khandallah
Wellington
Sun 25 Feb 2018, 02:30 pm
Sun 25 Feb 2018, 04:30 pm
Khandallah Park
Woodmancote Road Khandallah
Wellington
Wheelchair access, Accessible toilets
Margaret Robertson for Khandallah Arts Theatre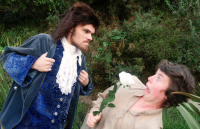 Khandallah Arts Theatre presents its annual Play in the Park for families over 2 weekends in February. Come to Khandallah Park at the end of Woodmancote Road on Saturday 17, Sunday 18, Saturday 24 or Sunday 25 at 2.30pm or 4.30pm to see a Fairy Godmother help Beauty win over the Beast in spite of a wicked witch and some distracting chickens. There's fun and laughter for all the family with audience participation driving the story along .
If the weather is doubtful because of wind or rain the hour long play will be performed in the Cochran Hall at Cashmere Ave School.
No bookings are required and entry is a gold coin donation each to help cover costs.
.
Event Dates
Khandallah Park
Wellington
Woodmancote Road Khandallah
View on map
Sat 24 Feb 2018, 02:30 pm
Sat 24 Feb 2018, 04:30 pm
Khandallah Park
Wellington
Woodmancote Road Khandallah
View on map
Sun 25 Feb 2018, 02:30 pm
Sun 25 Feb 2018, 04:30 pm