Anzac Day at Old St Paul's
Wed 25 Apr 2018, 10:00 am
Wed 25 Apr 2018, 12:00 pm
Old St Paul's
34 Mulgrave St, Thorndon
Wellington
Free Entry Event, Arts Culture, Education, History
Wheelchair access, Accessible toilets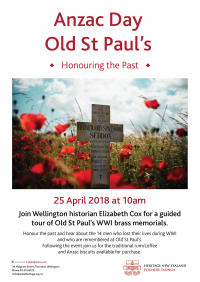 Anzac Day at Old St Paul's. Honouring the Past

Join Wellington historian Elizabeth Cox for a guided tour of Old St Paul's WWI brass memorials.

Honour the past and hear about the 14 men who lost their lives during WWI and who are remembered at Old St Paul's.
25th April 2018 at 10am

Following the event join us for the traditional rum/coffee and Anzac biscuits available for purchase.