Blog
Wotzon.com - Events Online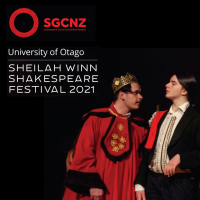 Alive with Shakespeare
Twenty-three of Shakespeare's plays in two days! Impossible?


Not when in the hands of forty-eight groups of students selected from throughout New Zealand, performing their 5 and 15 minute scenes. Amidst the ever-popular A Midsummer Night's Dream and Macbeth, Hamlet and Romeo & Juliet, the public can see are vignettes from Pericles, Titus Andronicus, Troilus and Cressida, Cymbeline, All's Well that Ends Well and many more.
Now in their 30th year, Shakespeare Globe Centre New Zealand's Festivals provide a wonderful opportunity to enjoy a taste of all these plays, in an incredibly diverse range of situations and interpretations. Avondale College's Dream looks through the lens of 21st Century reality television. "Whose reality of who-loves-who is more valid?" The Craighead Diocesan School, Timaru's Macbeth scenes are set in a dystopic, plague-ridden Scotland, where medieval Plague Doctors have resurfaced to tend to the sick. "The three witches have disguised themselves as Plague Doctors to torment Macbeth."
Julius Caesar is one of Shakespeare's political thrillers telling the story of conspiracy and Brutus' tragic flaw: idealism, performed by Iona College, Hawke's Bay. A modern interpretation of The Merry Wives of Windsor, John Paul College, Rotorua, acknowledges the "Me Too" movement. "The women take revenge on the sleazy Falstaff who demonstrates Narcissism."
King's High School has set their Romeo & Juliet at a bus stop, where the Montagues and Capulets 'encounter' each other, while Taupo-nui-a tia College has set its scenes from that play a hundred years in the future in which girls run the world. "Men are chattels necessary for breeding and political alignment."
Spread over five days from 3-7 June, the whole SGCNZ National University of Otago Sheilah Winn Shakespeare Festival is an invaluable learning experience. Each student and teacher attends two of the twenty Workshops (repeated) on the Friday morning, on a wide range of allied arts from stage combat, dance, singing, physical theatre, improv, audience interaction, technical aspects, directing, voice and, of course, aspects of acting taken by high calibre arts practitioners. With most of the participants being from out of Wellington, the afternoon's selection of the tours and a Forum with Peter Hambleton, are further enriching.
For the next two days, performing in the Michael Fowler Centre is a veritable thrill, given that for some of them, a school or small community hall is the extent of their experience.
"Watching each other perform is a vital component of the Festival," said SGCNZ CEO, Dawn Sanders, "It provides the young people with opportunities for them to evaluate what works well, or not, be inspired and develop their thirst to have whetted further in the future."
Inspiring Alumni will also perform and speak about their career trajectories, the realities of working in the arts and how they can utilise their skills in other realms.

Members of SGCNZ Young Shakespeare Companies 2020 and 2021 will perform cue-script scenes from The Tempest on the Sunday evening, with their sights still set on going to the Globe in June/July next year.
Also that evening, the allied Competition Prize-Giving and Scene Award Ceremony is led with much verve by Hon Grant Robertson as MC. On the Monday morning, he is hosting a session at Parliament, in which the Scene Assessors and SGCNZ National Shakespeare Schools Production Selectors share their thoughts, ideas and advisory tips to the students and teachers. They will then conclude with coping with the inevitable winding of career paths, which the public may attend, if pre-booked through SGCNZ's Office.
"The daily communications with Alumni from the past 30 years attest to the value they place on the experiences they gain, knowledge they glean and networking which stands them in good stead as they traverse the challenges of life," said Dawn Sanders.
Close reading and coming to terms with the language greatly assist literacy and literary skills, and feeds into University and other tertiary studies. Student directing enhances leadership qualities, drawing out competencies, managing peers and embracing team work. Eye-balling communication and interaction are vital, as is 'reading the audience' to whom the delivery is directed. With heightened anxiety amongst young people, exacerbated by COVID-19, engaging collectively, having courage to present to audiences, developing camaraderie and trust, so necessary in a cast, have provided a 'life-line' for many of the 125,000 who have participated in the past 30 years.
Being involved in SGCNZ's Festivals and other activities is constantly cited as a highlight of the young people's secondary education years, now extended to homeschoolers and community young people's drama groups. Seeing is believing!
SGCNZ National University of Otago Sheilah Winn Shakespeare Festival 2021

Experience the extraordinary talent of students from around NZ as they present their innovative and creative interpretations of the Bard's work. Delectable bite-size 5 and 15 minute performances will capture your imagination and bring Shakespeare to life in new and fascinating ways. See website for details.
Times & Dates
Saturday 5 June
9.30am-5.30pm Scene Performances
Sunday 6 June
9.00-5.00pm Scene Performances
7.00-9.30pm SGCNZ YSC Performance, Competition Prize-Giving, Scene Awards
Audience are welcome to come and go for their favourite scenes or enjoy the whole weekend- the programme is designed to be flexible!
The performance schedule is available online so you can start planning now - Performance Schedule.
Day tickets or weekend passes are available from Ticketmaster.