Blog
Wotzon.com - Events Online
On at Circa until 21 November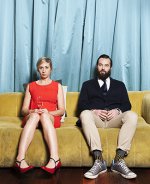 A MODERN STORY OF LOVE, TIMING AND SEIZING THE DAY
Ache is a fateful comedy about two thirty-somethings trying to find their way through modern love, materialism and the Wellington dating-drought. Click here for details.
Circa 2 is the smaller of the two theatres at Circa, resulting in the audience being cosy with each other and close to the action on stage. At times, rather than a spectator, you unwittingly become part of the 'action' or in the case of Ache, 'involved' in the story infolding. Partly because Ache is about the human condition of relationships and the traversing of falling in and out of love, which is a common enough phenomena for many of us, but also because you simply identify with the characters. It's about two young professionals busy being products of their middle class Kiwi upbringing; influenced by materialism, alcohol, and coupling, peer pressured to be 'someone' and parentally pressured to 'achieve'.
The two are more similar than they realise and so distracted with their own 'stuff' that they overlook what's glaringly obvious: the chemistry and magnetism between them. Sassy and sophisticated, the woman, played by Renee Lyons, flies in from the UK to attend a friend's wedding and meets 'sneaker guy' played by Richard Dey. Their relationship (or not) unfolds during a sequence of planned and unplanned 'acts' expertly supported by Amy Usherwood and Jack Buchanan. An excellent performance by this quartet of young and talented actors.
A simple but clever modular timber set remodels itself for weddings at The Boatshed, a rooftop restaurant during Wellington on a Plate and a Christchurch Earthquake charity fundraiser at the City Gallery. This modernity, along with the contemporary script position Ache as authentic for our time but a sad indictment on how self-imposed complications can blind us to our beating heart.