AAAH2018 presents What we have to say (is worth sharing with you)
Sat 08 Sep 2018, 10:30 am
Sat 08 Sep 2018, 01:30 pm
The Hub, Toi Poneke Arts Centre
61-69 Abel Smith Street, Te Aro
Wellington
6 days ago, Sat 15 Sep 2018, 10:30 am
6 days ago, Sat 15 Sep 2018, 01:30 pm
The Hub, Toi Poneke Arts Centre
61-69 Abel Smith Street, Te Aro
Wellington
Free Entry Event, Arts Culture, Community, Cultural Ethnic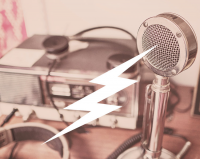 What we have to say (is worth sharing with you) is a pop-up renegade radio station running as part of AAAH2018 festival programme. Hosted by AAAH2018, Wellington Access Radio and featuring Lynda Chanwai-Earle, this renegade radio station will run for two consecutive Saturdays (8 and 15 September) before the Hui at Toi Pōneke Art Centrein Central Wellington.
We invite you and your community to come for morning tea, share stories and have candid conversations about cross-cultural encounters in the arts in Aotearoa.
• What's the best piece of advice anyone has ever given you?
• How do you sustain your creative practice?
• Is there something that you've dreamed of doing for a long time? Why haven't you done it yet?!
Following the 'share as much or as little as you like' approach, come along as a live listener or contribute to recorded group conversations or one-on-one interviews. All welcome and any involvement (either recorded or non-recorded) will be appreciated.
Recordings from each Saturday session will be edited and produced into a 2-part radio series that will be broadcasted on Wellington Access Radio 106.1FMat 5-7pm on Tuesday 11 September and at 5-7pm on Tuesday 18 September.
NOTE: Conversations will be in English but all languages welcome, so please bring someone along to translate if you need.
Come along to The Hub, Toi Poneke Arts Centre:
10.30am - 1.30pm, Saturday 8 September
10.30am - 1.30pm, Saturday 15 Septmeber
Listen on Access 106.1FM:
5-7pm, Tuesday 11 September
5-7pm, Tuesday 18 September
Find this event on Facebook here: https://www.facebook.com/events/535187783568753/
------------------------------------------------------------------------------------
ABOUT AAAH2018
The Asian Aotearoa Arts Huì aims to support Asian New Zealand arts practitioners through presenting practice, sharing ideas and networking. The Huì aims to make visible settlement histories in Aotearoa and the creative cross-cultural conversations generating from our relationships with Māori, Pasifika, Pākeha, other migrant communities and with each other. This is a result of five years of sustained creative conversations and collaboration since the inaugural Chinese New Zealand Artists Hui at Corbans Estate, Auckland (2013) and the first Asian New Zealand Artists Hui at Te Tuhi in Auckland (2017).
AAAH2018 will be taking place this year from 3 - 23 September in Wellington, Aotearoa and will be hosted by Massey University College of Creative Arts (CoCA) and National Museum of New Zealand Te Papa Tongarewa. All Welcome.
Registrations are now open for the Saturday Symposium (22 Sep) at Te Papa:
https://aaah2018-symposium-at-te-papa.lilregie.com/booking/attendees/new
and weekend events, with more to come. All welcome.
Special thanks to our partners: Creative New Zealand, Wellington City Council, Chinese Poll Tax Heritage Trust, Asia New Zealand Foundation, Wellington Access Radio 106.1FM, Toi Pōneke Arts Centre, Te Tuhi, ST Paul Street AUT, Hainamana, Meanwhile Gallery, Enjoy Public Art Gallery, Blue Oyster Project Space, Pyramid Club, Big Thumb Restaurant & Carol Coutts Chartered Accountant.
Event Dates
The Hub, Toi Poneke Arts Centre
Wellington
61-69 Abel Smith Street, Te Aro
View on map
Sat 08 Sep 2018, 10:30 am
Sat 08 Sep 2018, 01:30 pm
The Hub, Toi Poneke Arts Centre
Wellington
61-69 Abel Smith Street, Te Aro
View on map
6 days ago, Sat 15 Sep 2018, 10:30 am
6 days ago, Sat 15 Sep 2018, 01:30 pm