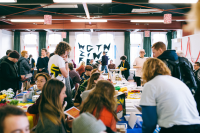 Wellington Zinefest 2019
View all Dates
Fri 15 Nov 2019, 05:00 pm
Te Auaha
65 Dixon Street, Te Aro
Wellington
Sat 16 Nov 2019, 12:00 pm
Te Auaha
65 Dixon Street, Te Aro
Wellington
Sun 17 Nov 2019, 12:00 pm
Te Auaha
65 Dixon Street, Te Aro
Wellington
Wellington Region, Arts Culture, Festivals, Free Entry Event
Wheelchair access, Accessible toilets
Cash only.
Get ready for a full weekend of Wellington Zinefest events this November, held once again at Te Auaha on Dixon Street.
After the success of last year's market day, we're splitting the market over two days, and adding in a couple of social events for good measure.
From 5pm on Friday 15th of November, we'll open the festival with some laid back drinks. We'll also screen two short films on local zine culture.

Then, the first market day will be on Saturday 16th November. We'll have an accessibility hour from 11am-12pm, for people who, for whatever reason, find it tricky to enjoy Zinefest when it's crowded. The market will open fully from 12pm-4pm.
On Saturday night, we're having a mid-party! Because after-parties are like, so passé. Join us for a drink and a boogie to some awesome live local music - line-up TBA.

Sunday 17th November will be a second market day, with a very similar schedule to Saturday but a whole new cohort of stallholders. We'll be announcing Best of Fest on Sunday afternoon to wrap up the festival.
Event Dates
Fri 15 Nov 2019, 05:00 pm
Sun 15 Sep 2019, 08:00 pm
Sat 16 Nov 2019, 12:00 pm
Mon 16 Sep 2019, 11:59 pm
Sun 17 Nov 2019, 12:00 pm
Tue 17 Sep 2019, 11:59 pm